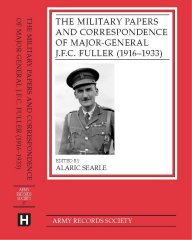 What we do …
We are a not-for-profit organisation with charitable status (no. 326484) that
exists to edit and publish manuscripts relating to the history of the British Army.

Every year we publish at least one volume of documents. This means that these
primary historical sources are made available to a wider audience.
We welcome proposals for new volumes.

The Society is run by a Council made up of people with military, academic
and historical backgrounds.


What we don't do …
We are not the experts on all army records and cannot help with individual
research projects. We would suggest the National Archives website as a starting point.

Why you should join us …
For only £25 a year, individual members receive a free copy of the current and all future volumes published by the Society. Members can also purchase volumes from our back catalogue at reduced rates.

Every year you will be invited to attend the Annual General Meeting at which the latest editor will speak about their volume.



The more members we have, the more volumes we will be able to publish.



Army Records Society Fellowships
Moved by the death of one of our long-standing Council Members and former Secretary, Professor Keith Jeffery, Council decided, in 2018, to offer fellowships to promising scholars, to help them, financially, and with expert mentoring, to develop a volume for the Society. We would like to thank all of those who applied for fellowships; we received an unexpectedly large number of well-thought out and interesting proposals. It was decided, given the quality of the applications and the healthy financial position of the Society, to appoint Dr.Aimée Fox and Dr.Edward Smalley to fellowships, for the following projects:



The Military Papers of Major-General Guy Dawnay, 1914-1919

edited byAimée Fox.



The Military Papers of Sir John Dill 1936-1941

edited by Edward Smalley.

We look forward to working with Aimée and Edward and plan to publish their volumes in 2022 and 2023.


Membership administration: Heritage House, PO Box 21, Baldock, Hertfordshire, SG7 5SH
Tel. 01462-896688 Fax. 01462-896677 Email: