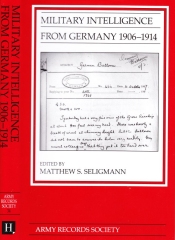 What we do …
We are a not-for-profit organisation with charitable status (no. 326484) that
exists to edit and publish manuscripts relating to the history of the British Army.

Every year we publish at least one volume of documents. This means that these
primary historical sources are made available to a wider audience.
We welcome proposals for new volumes.

The Society is run by a Council made up of people with military, academic
and historical backgrounds.


What we don't do …
We are not the experts on all army records and cannot help with individual
research projects. We would suggest the National Archives website as a starting point.

Why you should join us …
For only £25 a year, individual members receive a free copy of the current and all future volumes published by the Society. Members can also purchase volumes from our back catalogue at reduced rates.

Every year you will be invited to attend the Annual General Meeting at which the latest editor will speak about their volume.



The more members we have, the more volumes we will be able to publish.



ARS Fellowship Scheme
Moved by the death of one of our founder members, and long-standing Councillor, Professor Keith Jeffery, the Army Records Society invites applications for at least one Army Records Society Fellowship. Fellowships will be held for three years and a bursary of £1,000 per annum, plus travel expenses of up to £2,000 per annum, will be payable to successful fellows. In return for this bursary, fellows will be expected to produce a volume of edited papers for publication by the Society. Those appointed to a fellowship will receive an academic mentor and full support through the publishing process. This scheme is most suitable for early career researchers.
Those interested in applying for a fellowship should forward a curriculum vitae and an outline of their proposed volume, to the Honorary Secretary, Dr. Timothy Bowman: T.Bowman@kent.ac.uk. The deadline for prposals is noon on the 19th February 2018. Those shortlisted may be asked for a sample of published or draft work and it is expected that interviews will be held in London in the week beginning 5th March 2018.

Membership administration: Heritage House, PO Box 21, Baldock, Hertfordshire, SG7 5SH
Tel. 01462-896688 Fax. 01462-896677 Email: